Is the awesome value you deliver staying a well-kept secret from your dream client?
Discover how to unpack and craft vibrant stories & compelling content, that inspires your dream clients to show up, ready to work with you.
Do you feel that the copy on your website could be better? More engaging?
Do you worry that your messaging is not making the impact you want or grabbing your ideal client's attention as soon as they land on your site? 
Do you struggle to put into words what you do and who for, in a way that instantly resonates and connects with your audience? And has them banging on your door, wanting to work with you.
Are you unsure how much you should talk about yourself? Do you find it difficult to get your stories, about you and your business, out of your head and onto paper, in some sort of order? And then how much of that do you share?
Hi, I'm Susan Payton and I know these are just some of the questions in your head, because I hear them all day long.
You just want to do that thing you love doing right? With the people you love working with. You want people to connect with your message.
But I understand that it can be so frustrating when you know you can get an awesome result for your client, you know you can make a massive difference to the people you love to work with, but you don't know how to say that – in a way that doesn't feel 'salesy' or contrived.
So, what do you do when the awesome value you deliver is staying a well-kept secret?
You could do some social media training. But isn't that about tools, techniques and scheduling, rather than understanding your real value, who you want to work with and what actual words will connect with your dream client?
You could learn more lead generation strategies. But will they be the leads you want? Will the people you love working with show up?
You could get your website updated. Or a new one built? But will your developer understand who you are trying to reach? And won't they need your copy all written up and ready to go?
You could hire a copywriter? But won't they need something to work with? And will they take the time to unpack your story to truly understand you, your business & your customers?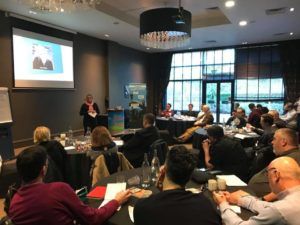 I've worked with many business owners, in various sectors and industries, to help them connect with their target market through the power of storytelling.
My unique process focuses on the three most important stories. Your story. Your business story. And your customer's story.
Because once you have unpacked those stories you will know exactly who you are talking to, the story you need to be telling them will jump out at you and the message you need to be focusing on will become very clear.
And now I am teaching people how to do it for themselves.
Over 10 weeks I will work with you to help you:
Unpack the stories that matter. Get them out of your head and into some sort of cohesive order
Pull out the golden nuggets, the key value pieces that people will resonate with
Get clear on your business story, why it exists, what it stands for and the difference it is here to make
Understand your customer's story. What's going on for them, what do they really want and where do you fit into their story
Create a clear and compelling brand narrative, that will become your core message and underpin everything your business does and says moving forwards
Clarify your messaging and keep it super simple
Ensure that whether potential clients visit your website, meet you in person or come across you on social media, they will hear and see the same consistent message and brand narrative
So that your dream client:
Feels a connection with you, before they've even spoken to you
Shows up, already feeling like they know, like & trust you
Is confident that you'll 'get' them, you'll understand where they're at, where they want to go and how to get them there.
Because then business gets easier, right? It's a much easier "sell". You can get on with doing what you love doing, with the people you love working with – because:
You've got your messaging nailed
It's hitting all the right notes
It's simple but compelling
And you've given your dream client a reason to show up and want to work with you.
This course is for you if:
You are fed up spending far too much time trying to get clients to understand the real value that you create and what you can help them do and be and achieve
You know how powerful story is. You may even have worked with someone because you connected with something in their story. You get it. You're just not sure how to do it.
Building relationships is important to you. You want people to resonate with what you are about and know, like and trust you
How does it work?
This course runs three times a year, kicking off in January, May and September.
The course will be part training/part coaching and will be done in a group, where participants can support and encourage one another, learn from each other and grow together, in a way that is more powerful and bigger than they could be on their own.
The course will be delivered over 10 weeks. There are 5 modules, so you will have two weeks to work through each module.
There will be a FB group to ask questions, post your homework, get feedback etc.
And there will be a Q&A each week, for you to jump on a live call and ask any questions you may have.
BONUS
As, a bonus, there will also be 2 x one2one coaching calls with me to keep you on track and give you all the support you need to get an awesome result.
What if I fall behind?  
Although the best way of working through this course is with me ie working on each module as it is released and attending as many of the Q&A's as you can, I understand that life doesn't always work 'to plan' and things can get in the way.
You will have lifetime access to the modules, so you can always work through them at your own pace if you need to. You will also have lifetime access to the FB group and the recordings of any Q&A's you missed.
The 2 one2one coaching calls are only valid for 10 weeks but I will always be available in the FB group to answer any questions you may have.
Can I start a.s.a.p? 
FOR FAST ACTION TAKERS …
I am going to be running a BETA version of this course, with ten people, at a heavily discounted rate. If you would like to be considered for this, please register your interest before 19th October 2018.